Unterhalts- & Büroreinigung & Embassy and Consulate Cleaning Services
Wir reinigen Büros, Arztpraxen, Banken, Versicherungen, Kaufhäusern, Industrie- und Gewerbeunternehmen. Unser bewährtes Büroreinigungskonzept wird auf Ihre Wünsche und auf die tatsächlichen Anforderungen Ihres Büroalltags abgestimmt.
Professionell & Schnell durch REIMEX GmbH
Gepflegte Büroräumlichkeiten sind nicht nur eine Visitenkarte Ihres Unternehmens, sie fördern auch das Wohlbefinden und die Motivation Ihrer Mitarbeitenden. Wir reinigen alles – gemäss Ihrem Auftrag und Wunsch:.
Ob wöchentlich oder eine Grundreinigung. REIMEX GmbH reinigt Büroräume in jeder Größe. Wir reinigen Ihren gesamten Arbeitsplatz, vom Computer zu Regalen und Schränke bis hin zu allen Böden und noch vieles Mehr. Bei der Büroreinigung werden sämtliche Abfallbehälter, Altpapier, PET-Behälter geleert und recycelt.
Dazu gehört die Reinigung aller Schreibtische und Ablageflächen. Alle Teppiche werden gesaugt und je nach Bedarf werden die Flecken entfernt. Parkett und andere Böden werden auch gesaugt und fachgerecht gepflegt. Weiter, reinigen wir für Sie auch gerne die Fenster, ob nach Wunsch oder als Grundreinigung Aufenthaltsräume sowie auch Küchen und Badezimmer werden von uns aufgeräumt und entkalkt. Somit können sich Ihre Mitarbeiter wohl fühlen und es herrscht ein angenehmes Klima in Ihren Büros.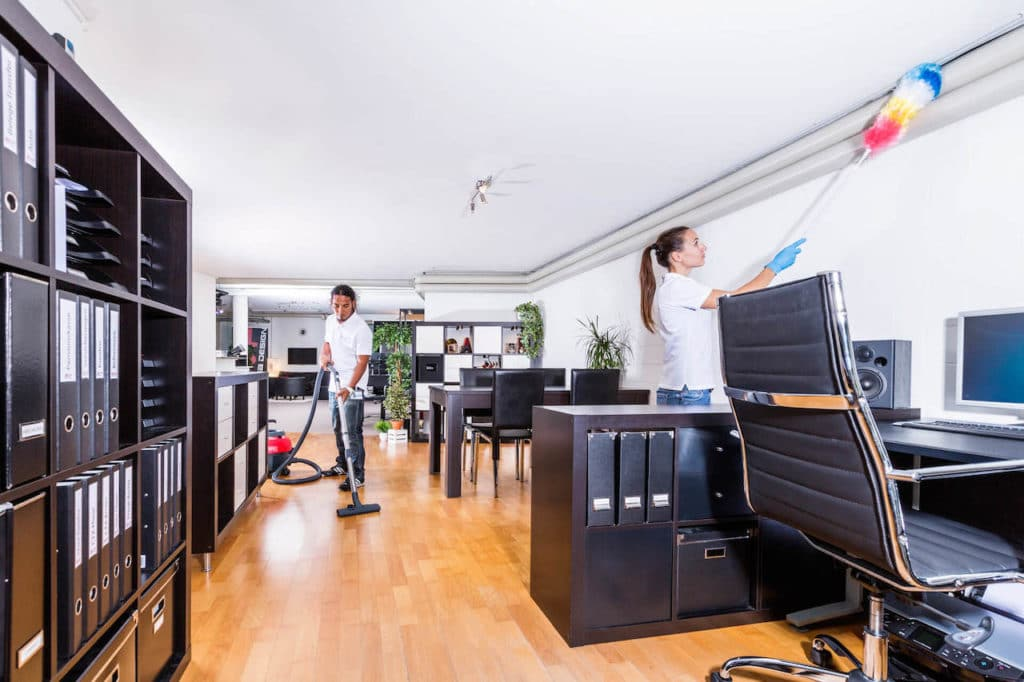 Bei der Büroreinigung sind saubere Arbeits- und Aufenthaltsräume die Visitenkarte eines jeden erfolgreichen Unternehmens. Gerne vereinbaren wir mit Ihnen den Umfang unserer Leistungen und kümmern uns kompetent um die Grund-, Zwischen- oder Unterhaltsreinigung Ihrer Räumlichkeiten. Reinigungsintervalle und Kosten werden bei der Auftragsaufnahme mit Ihnen schriftlich vereinbart.
Wir sorgen gerne für saubere und hygienische Büros, Sitzungszimmer, Korridore, Treppenhäuser, sanitären Anlagen, Fenster oder sonstige Verkaufsflächen.
Hier informieren Sie sich zu den FAQ / Preisen, zum Kontaktformular oder rufen Sie uns an 031 537 19 99 oder 078 227 49 49

Embassy and Consulate Cleaning Services in Bern
REIMEX Cleaning Services is a reliable and cost-effective embassy and consulate cleaning service provider in Bern. Our well trained, professional and DBS (Strafregister) checked cleaners can deliver a top-quality cleaning results for your embassy and consulate offices.
We pride ourselves as being one of the best and well-established contract cleaning company for embassy and consulate cleaning, we specialize in providing professional diplomat cleaning solutions to the highest standards possible, delivering the absolute best level of service and customer satisfaction is our number one priority.
When choosing a professional cleaning company for your embassy and consulate cleaning, you will have to be sure that they have the knowledge and experience to get the job done right! We have the very best equipment and quality controls in place to make sure that your high standards of cleaning are not just met but exceeded.
Visit our services page for more detail on the wide range of cleaning services that we provide. Alternatively get in touch with us today, for a free no-obligation quote. www.reimex.ch
Fully Vetted and DBS (Strafregister) Checked Embassy Cleaners
When contracting REIMEX Cleaning Services for your embassy and consulate cleaning you are hiring a professional cleaning company that is certified, experienced, and trustworthy. We put cleaners through a careful screening process, conducting due diligence and scrutinizing their trustworthiness from top to bottom to ensure that you get nothing less than top quality cleaning services. DBS checks cost nothing to our clients with us and your diplomat mission will be in the best hands for the daily cleaning of your embassy and consulate buildings.
DBS checks exist to provide businesses and individuals with a genuine assurance that people cleaning your diplomat buildings is honest and suitable for the work. Therefore, when hiring a professional embassy and consulate cleaning company that perform DBS checks on their cleaners, you protect yourself and your staff in all ways possible.
You will not find better diplomat cleaning company in Bern. Don't take our word for it though, have a look at what some of our satisfied customers say about us.
Get in touch with us today for a bespoke, no-obligation quote.
Why choose REIMEX Cleaning Services ?
• Enhanced DBS checked cleaners with uniform
• Bespoke Embassy and Consulate Cleaning Services
• Sanitation and disinfection of all touch points on every visit
• Monthly audits to track & monitor our service delivery
• Directly employed BICSc & Health and Safety trained cleaners
• Competitively priced cleaning contracts with flexible work patterns
• Strict Colour Coding for Hygiene & COSHH focused
• Use of eco-friendly materials and energy efficient equipment
• Quick response to our customers needs
• No Fixed Term Contracts
SECURITY & VETTING
Our cleaners must pass an enhanced DBS check on employment, wear a uniform and carry their I.D badges at all times. This way we safeguard your facility from unsuitable individuals.
ATTENDANCE MONITORING
We record and track the attendance of our operatives to ensure your facility's cleaning is completed on every schedule visit. This way you only pay for hours completed.
ATTENTION TO DETAIL
Attention to detail with everything we do is what makes us stand out from the rest. We work very close with customers to understand their specific needs, while keeping a close eye on your budget.
ECO-FRIENDLY SERVICES
We work only with suppliers that are committed to contribute towards the environment by using recycled materials, environmentally friendly chemicals and energy saving equipment.
Get in Touch
So if you are looking for a professional cleaning company in Bern to look after your embassy or high commission, please call us on +41 31 537 19 99 or +41 78 227 49 49 or contact us for a free quote. https://www.reimex.ch/kontaktieren-sie-uns-1
Das Wichtigste in Kürze!
Reinigungsansatz im Abo für CHF 50.- / Stunde (Pauschal Preise), oder bei grösseren Einsätzen in fixen monatlichen Pauschalen
Alle Reinigungsmittel und -Utensilien inbegriffen
Kostenloser Offert- und Beratungstermin
Unsere Angestellten sind gemäss Bundesgesetz korrekt sozial- sowie gegen Berufs- und Nichtberufsunfall versichert
Haftpflichtversicherung bei allfälligen Schäden bis max. CHF 5 Millionen
3-monatige Kündigungsfrist auf Quartalsende
Was kostet die Büroreinigung?
Die Preise variieren je nach Größe, Aufwand, Umtriebe etc. Um ein genaues Angebot zu erhalten, bitten wir Sie, mit uns Kontakt aufzunehmen um einen Besichtigungstermin zu vereinbaren.
info@reimex.ch.ch oder per Tel: 031 537 19 99 oder 078 227 49 49